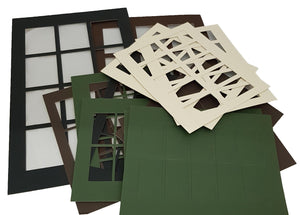 Clearance offer, once they're gone , they are gone !
Over 100 cut mount cards. Ideal resale or framing stock for a Picture Framer
Various Colours including Green, Black, Cream and Brown
With some mounts cut for standard sized cigarette cards (68 mm x 36 mm), some for Standard Sized Gallaher Cigarette Cards, some for 80 mm x 60 mm Trade Cards & some for standard sized Trading Cards (90 x 65 mm)
It is a completely random selection.
Less than £1 per mount